Illustration by Ashley Depew
MACHIAS, Maine – In this rural town east of Bangor, some educators, parents and students believe the pandemic changed Machias Memorial High School for the better.
Federal COVID-19 relief funds meant the school could add an exterior classroom, an outside workout space, and hiking trails around the campuses, to extend learning to the outdoors.
Federal relief funds meant a van to pick up Mindy Henderson's children and other students from home, getting them to school for extracurricular activities, then depositing them back at their doorsteps, 40 miles from school.
Federal relief funds meant a new ventilation system, nurses office and improved technology.
In other words, all the things that a rural district was used to doing without until federal funds came to the rescue.
"I think the pandemic caused our education system to find new ways of being creative," said Mindy Henderson, whose three oldest children, Kolby, 16, Gracelyn and Isabella, both 15, attend Machias Memorial High School. Her other two children – Charli-Jo, 6, and Olivia, 3 — attend Rose M. Gaffney Elementary School, which shares a campus with Machias Memorial.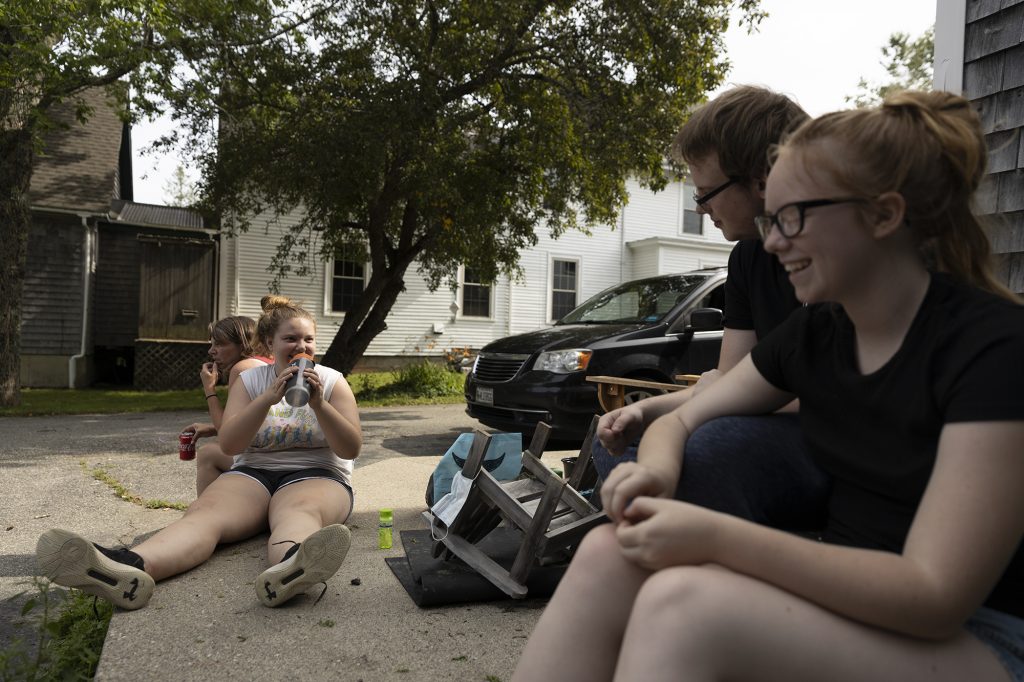 Schools in rural areas in the U.S. often face challenges, such as a declining property tax base, limited transportation for students who have to travel long distances to school, and a lack of internet access and other infrastructure. But the $192 billion in pandemic money for K-12 education nationally has helped this Maine school district.
"The Covid relief funding has really changed a lot of things at our school in terms of helping us get back to the standard of spending that is probably more normal for everywhere else," said Nicole Case, principal of Machias high. The school is one of seven elementary, middle and high schools in the AOS 96 district, which spans over 11 towns. The district received $6.5 million in relief money, said district Superintendent Scott Porter.
Relying on property taxes
Washington County, where Machias High is located, has the highest poverty rate in Maine, according to a report by the University of Maine. The schools have been underfunded since Gov. John Baldacci signed a district consolidation bill in 2007, which led to the district's new name; Alternative Organizational Structure, or AOS 96.
About 55% of Maine school budgets come from property taxes, one of the highest percentages in the country.
Rural schools that rely heavily on property taxes often are in towns reliant on industries with uncertain futures, like agriculture, lumber or oil.
Machias rose to prominence in the late nineteenth century for its lumber and fishing industries.
"If educational funding is based on property values and property values are linked to these shifting economies, it can provide unstable footing," said Kara McCrimmon, the founder of Cobscook Institute.
Adding outdoor learning
Cobscook provides what's called "experiential learning" programs in Washington County, with an emphasis on outdoor curriculum. The time spent outside allowed students to return to in-person learning after spending 3 months of their spring semester learning from home. The pandemic relief funds financed the outdoor class area and trails.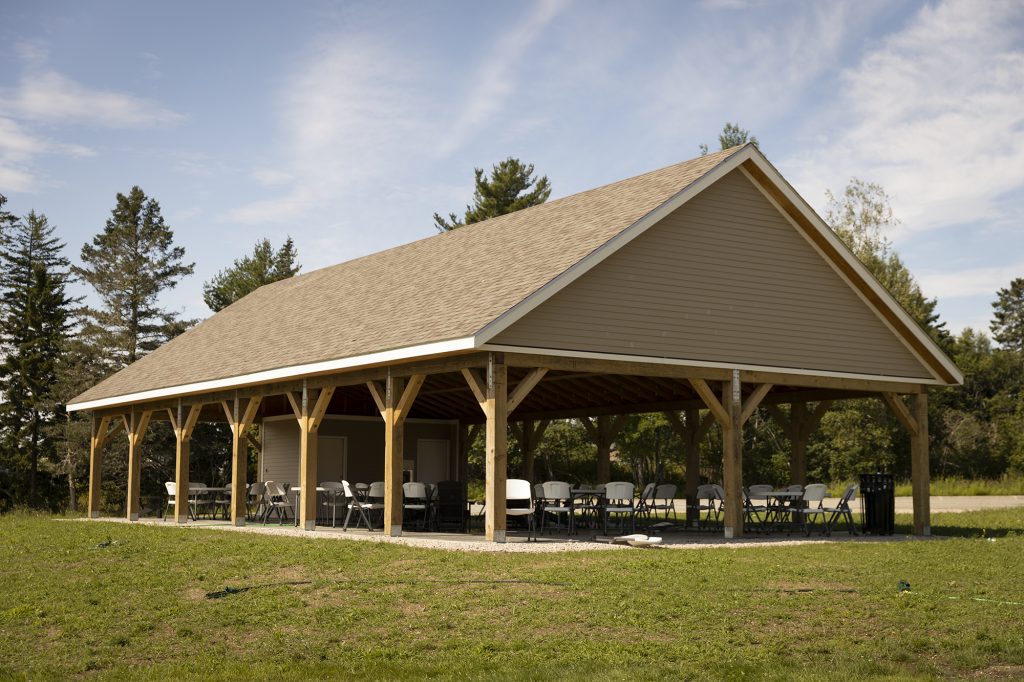 Time spent learning outdoors also gave students and teachers a break from their modified schedule, according to 15-year-old Gracelyn Henderson.
"We are allowed to take as many walks as we want," she said. "Most classes, we go outside and hang out for a little bit. I (would) go for a walk on the nature trail and then we go back inside and then we do work."
Hazel Stark, the founder of Maine Outdoor Schools, which also provides outside educational experiences, said outdoor learning was considered a novelty before the pandemic.
"I'm seeing more schools start shifting from the mentality of only a field trip or one-off, to really embedding outdoor learning in their curriculum," Stark said.
Inside the high school, relief funds went toward a ventilation system and a nurse's office that helped students come back to school safely and sooner.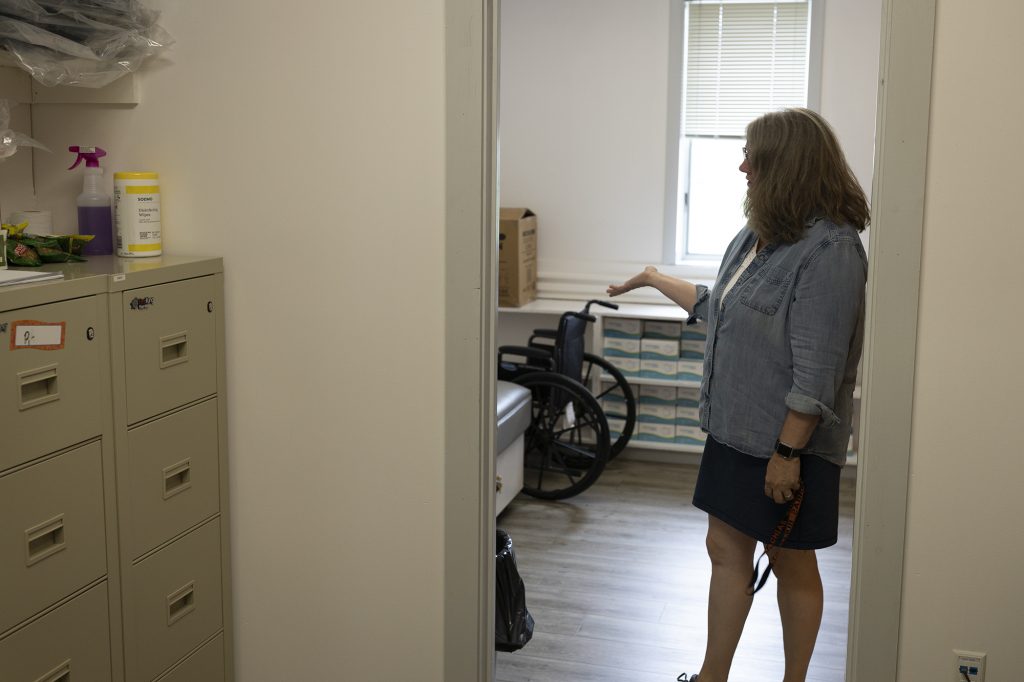 While they were fully remote for three months in the spring and two weeks in the fall, the school updated their technology. It helped officials launch a new schedule where Wednesday classes remain entirely online.
"We put in an entire new network for the schools because (previously) we just didn't have the infrastructure to handle the technology that was happening every single day," Case said.
Access to technology is a common problem in rural areas that was further revealed by the pandemic. A report from Common Sense Media says that of the 50 million public school students who were forced into remote learning, 15 to 16 million lacked adequate internet access or devices, and 9 million had neither.
"At least 36 states have allocated over $1.5 billion in CARES funding for K-12 digital access," according to the report.
Getting a van
In a school district that spans 36 miles, transportation has proven to be a continual problem. But the district got help during the pandemic.
Another local high school closed in 2010 because of school consolidation. Since then, Macias has been the closest high school to the town, about a 40-minute drive away. Getting students back and forth has been tougher with social distancing guidelines.
Machias purchased a van to transport students from home to school for extracurricular activities.
"During COVID, we were trying to space out students on buses," Case said. "We were having to make multiple runs. But when you're as rural as we are and have to go as many miles as we do, it's great to be able to hop in the van."
A return to smaller classes
Machias's small student population added to its pandemic success. To facilitate a return in-person learning, class sizes were decreased and schedules were modified to accommodate social distancing.
Henderson said one of her younger daughters, Charlie Jo, 6, was able to attend school in person five days a week. Her niece, who lives in a bigger city in Maine, attended two days a week because of larger class sizes.
James Black, a teacher at Machias high for nearly 50 years, had 12 students instead of his usual 25. He had more one-on-one time with students.
"There were smaller groups, so students were much more willing to talk about the issues they had with the pandemic and their own life in particular," Black said.
Gracelyn Henderson also said students were more comfortable addressing personal issues. Because of her anxiety, the smaller classes made it easier for her to ask questions and speak directly to the teacher. She said that the teachers also gave out their personal phone numbers so students could reach out.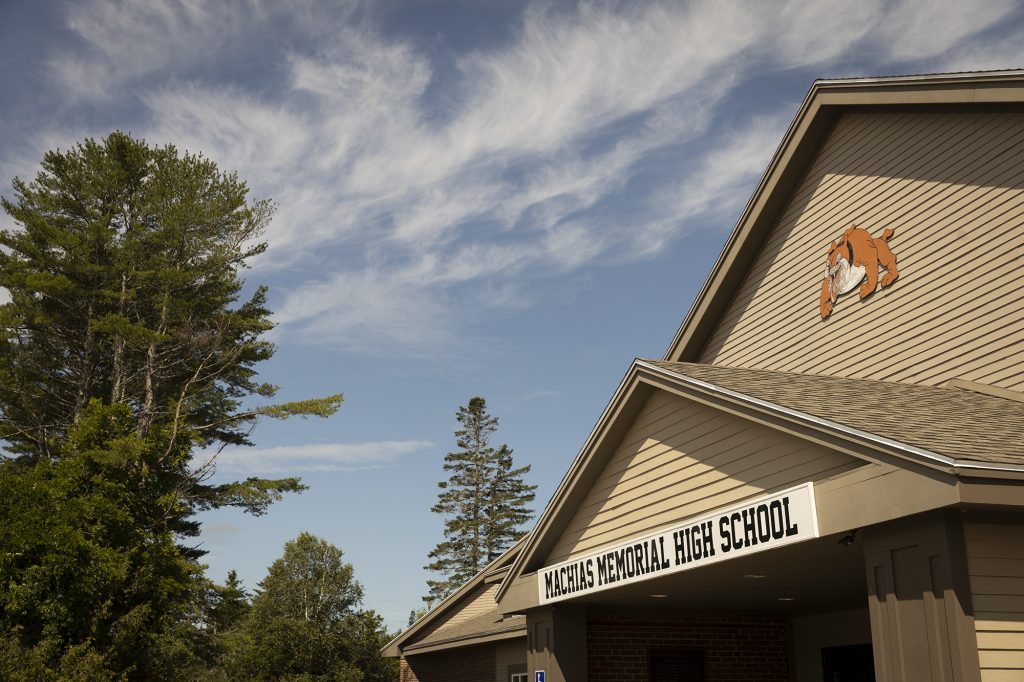 Every modification the school has made for the pandemic has been for the better, according to Case, the principal. As a result, she said, teacher enthusiasm is high.
"It allowed us to take things we already do well – for example, relationships with our students – and do even better," she said. "I think our morale is good. We're tired, but it's good."
Henderson, the mother of five, agrees.
"I'm sure every school could use more money to do more and get bigger if they wanted to," she said. "But I think our school is just great the way it is."
News21 reporter Ashley Depew contributed to this report.