Illustration by Ashley Depew
Theresa Landrum, who lives in one of Michigan's most polluted zip codes, knows more people who have contracted COVID-19 and either died or faced serious medical complications than she can fully recall.
"We've had some of our residents' parents both die from COVID," Landrum said of her Detroit neighborhood. "And then young people, 40 years old, 45 years old, 32 years old, die from COVID. And one has been in a nursing home about 10 years. She got COVID in the nursing home. Then I had one friend reveal to me she had COVID twice."
Landrum's zip code, 48217, is in an area experts found to have high levels of the industrial pollutant sulfur dioxide, a product of burning fossil fuels, which state environmental experts have linked to respiratory distress, lung problems and a compromised immune system.
Wayne County saw the highest rates of COVID-19 deaths in the state. The New York Times COVID-19 tracking project reports 1 in 339 residents died of COVID-19, the highest ratio of any Michigan county.
Landrum, an environmental justice advocate, wonders whether the pollution surrounding the area may have added to the severity of COVID-19 symptoms for a friend of hers, who lived near a freeway that spewed pollutants daily.
"She said, 'I got so many underlying conditions that if I get COVID, I know it's going to take me out of here.' And she died.'" said Landrum, who served as a community representative on a Michigan study about possible links between highly polluted areas in the state and other illnesses.
The Centers for Disease Control have determined that pre-existing conditions such as asthma, cancer and diabetes can cause cases of COVID-19 to be more severe or even deadly.
The science, however, is still uncertain about whether pollution can be linked to the severity of COVID-19 and fatality rates.
"What I can tell you from the literature, is there is now a lot of evidence showing that air pollution, long- term air pollution exposure, can contribute to the COVID-19 severity, both the fatality rate and mortality rate of COVID-19," said Dr. Kai Chen, assistant professor at the Yale School of Public Health and director of research at the Yale Center on Climate Change and Health.
Still, he is cautious about the research.
"The evidence is from a huge number of studies," Chen said. "However, a lot of them are not very well designed and the other parts of studies are mostly limited by their nature of ecological design and by the lack of accurate data."
Researchers are just starting to explore whether there's a link between higher rates of severe illnesses and deaths from COVID-19 in areas where industrial and other pollutants are concentrated. Advocates suspect the answer is yes – especially in communities of color – but scientists are still grappling with conflicting findings and data.
Lots of research questions, few answers
Chen and other experts said it's difficult to determine whether pollutants or other causes link to COVID-19 symptoms, especially because of other contributing factors that complicate data along with data collection methods that are still new and imperfect.
Factories and other industries spew out a variety of pollutants, from toxic chemicals to air particles that can lead to asthma and other respiratory ailments, according to the Environmental Protection Agency. But there are other factors that can exacerbate illnesses arising from the coronavirus, such as obesity or limited access to healthcare.
Research on which pollutants, if any, are responsible for worsened COVID-19 outcomes is still underway. Scientists are considering the impact of particulate matter pollutants and those produced from burning fossil fuels released by factories and vehicles.
Dr. Patricia Koman, Ph.D., a research investigator in environmental health sciences at the School of Public Health at the University of Michigan, studies air pollution.
"One of the things that is difficult with air pollution and with COVID, especially in the early days of the pandemic is that on the death certificates, people may or may not have had a COVID test when they passed away from COVID," Koman said. "As a result, the uncertainty around the outcome is different from some of the other endpoints we might have which we might have more familiarity with, like cancer."
Koman said many factors that predispose some communities to experiencing health impacts from pollution were the same communities hit hardest by COVID-19.
"A number of people in lower wage jobs may not be able to protect themselves in the same ways from infectious diseases or other hazards and end up with poor outcomes," Koman said.
A study conducted by researchers from Harvard School of Public Health and Dana-Farber Cancer Institute and published in Science Advances journal in November pointed out another dilemma.
"Because of the unprecedented nature of the pandemic, researchers face serious challenges when conducting these studies," researchers write. "One key challenge is that, to our knowledge, individual-level data on COVID-19 health outcomes for large, representative populations are not publicly available or accessible to the scientific community."
Still, despite the challenges of the research, its scientists say the study reveals a correlation between exposure to specific-sized particulate pollution and pandemic-related deaths in U.S. counties. It stopped short of saying pollution caused the deaths.
The study, known as the Harvard Chan Study, led by Xiao Wu, Rachel Nethery and senior author Francesca Dominici, found that there was an association between several years of air pollution exposure and an 11% increase in mortality for COVID-19.
However, a second study published by Science Direct finds a correlation between some urban pollutants, like nitrogen dioxide (NO2) and susceptibility to COVID-19 deaths, but did not find significant associations between COVID-19 cases and particulate pollution.
"Prolonged exposure to this urban traffic-related air pollutant may be an important risk factor of severe COVID-19 outcomes," the researchers conclude. "The results support targeted public health actions to protect residents from COVID-19 in heavily polluted regions with historically high NO2 levels."
The study suggests efforts to reduce air pollution may lower population-level risk of COVID-19.
Activists tackle pollution, COVID-19
Environmental activists in the Bronx, Detroit and areas in Louisiana believe pollution makes COVID-19 more deadly, especially in communities of color.
Mychal Johnson lives in an area of the South Bronx that the American Lung Association notes has disproportionately high numbers of asthma cases. The neighborhood flanks four highways, a warehouse, a parcel depot and a sewage facility.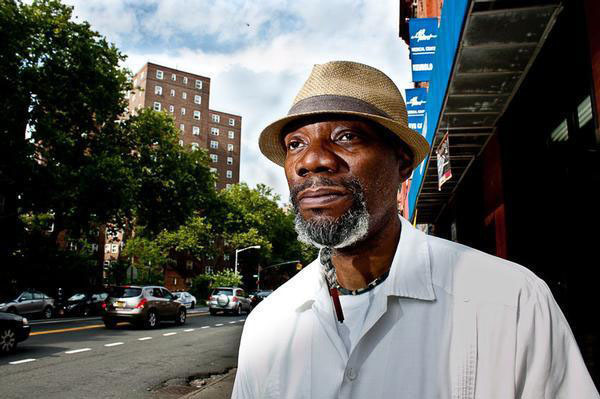 "That's why this is 'Asthma Alley,'" Johnson said. "Because of what's been put here, because of our landscape, because it's a poor or economically oppressed community and one of the poorest congressional districts in the United States, having the most egregious outcomes COVID because of everything's been placed here. I think that happens in communities like ours all over the country where people of color are suffering more severely because of what they have to deal with and live through and live in because their land is cheap."
Some of the South Bronx neighborhoods with high concentrations of particulate pollutants as well as COVID-19 deaths were also those with some of the highest minority populations. One neighborhood, Mott Haven and Melrose, had three times as many hospitalizations for asthma in children ages 5 to 17 as the rest of New York City, and 1.5 as many as the rest of the Bronx in 2015 according to New York Health Department records.
In Mott Haven, the COVID-19 death rate is 396.24 deaths per 100,000 people, higher than the New York City death rate of 339.72 deaths per 100,000. Mott Haven's population was 73% Latino in 2018.
Some residents and activists of the 85-mile stretch between New Orleans and Baton Rouge, Louisiana, known as "Cancer Alley," attribute the pollution released by the region's 150 oil refineries, plastic plants and chemical facilities to worsened health outcomes and resulting COVID-19 outcomes.
The high levels of pollutants "increased risk of dying from COVID-19 because that area is so reliant on industry," said Kate McIntosh, program coordinator of the Louisiana Bucket Brigade, a local environmental action group.
"I just think overall we have connected the dots," said Angelle Bradford, a member of the Delta Chapter of the Sierra Club in New Orleans. "Where Black and brown and low-income folks live, outcomes are just not as good. Whether it's violence, whether it's health, whether it's lifespan and comorbidities it is just always worse in Black, brown and low-income areas."
Chen said pollution and the coronavirus target some communities disproportionately.
"We know from over years of decades of study on air pollution, that there's a disparity in the health impacts of air pollution," Chen said. "Communities of color, especially Black Americans and Hispanic populations in the United States, face more air pollution because of proximity to highways or polluted areas. This is what we know before the pandemic. With the pandemic, you see the mortality rates are also higher in these communities."
The push for change
Organizers in St. James, Louisiana, a parish located within Cancer Alley, are fighting plans to build another industrial plant. The facility will be the size of 80 football fields and be located a mile from an elementary school in St. James.
"It would double the air pollution that residents are already breathing in St. James Parish and even possibly triple it within, you know, two or three mile area from where the plant would actually be," McIntosh said. "And so, this monstrosity would just exacerbate all of the other issues in the area. And for a lot of residents, it pretty much makes it impossible to live a healthy life."
Chasity White, an organizer with RISE St. James said the pandemic delayed the construction of the plant, giving her and other activists the time to fight back. She said when someone comes into St. James, the industry is the first thing one notices — it fills the air and it occupies acres of land. To her, the new development would be one more giant problem for her community.
"Once you smell the smell, you associate it with the smell," said White of the air in St. James.
The push for industry in Louisiana is not new, according to Bradford. The Louisiana Industrial Ad Valorem Tax Exemption Program (ITEP) offers a tax incentive to any manufacturer who agrees to bring jobs and payroll to the state. It is the only program like it in the U.S. The incentive gives the power to the state rather than local governments when it comes to deciding where the new industry will be located.
"When the plant came and then the interstate came, the transition of white folks and more affluent folks south of that plant started to begin," Bradford said. "And then it ended up being the Black and brown and poor folks that were left by the plant because it's the cheapest land — it's historically the cheapest land that's the most polluted. And it's the same way in St. James and St. John and the other parishes."
Landrum's neighborhood is home to I-75 and there are 52 "Toxic Release Inventory" sites within 10 miles of the zipcode. She blames government inaction for letting the air get to this point.
"The government is not doing enough to address climate change," Landrum, who serves on two environmental boards under Gov. Gretchen Whitmer. "The government is not doing enough to address inequities in predominantly African-American, low income Black and brown communities. They're not doing enough to address the disparities. They're not doing enough to make people whole. They're not doing enough to offset the onslaught of the pollution that we're getting from these companies."
Chen said governments should fight pollution with the same vigor with which they fought COVID-19 because it is equally dangerous.
"I always tell people that air pollution is like a slow motion pandemic that people may not pay much attention to," Chen said. "We are fighting COVID-19 with so much collaborative efforts and financial actions, but if we can also combat the air pollution like what we do for COVID-19 in a sustainable way…it can help also prevent the tremendous public health consequences that occur on the same level as the COVID-19 pandemic."
In South Bronx, Johnson along with his organization, South Bronx Unite, are lobbying for legislation on the local, state and federal levels for environmental legislation to help vulnerable communities.
"I think folks want different outcomes," Johnson said. "Of course, they always want healthier outcomes for their children, their families, but it shouldn't come at a cost."