Illustration by Zach Van Arsdale
Even before COVID-19, America faced a health crisis, rising in part from unhealthy eating.
Over 42% of Americans are obese, according to the Centers for Disease Control and Prevention. Nearly half of adults have hypertension. One in every four deaths in the U.S. is attributed to heart disease.
When the pandemic hit, a nation riddled with underlying conditions found itself unable to fend off the virus. The U.S. has the most COVID-19 deaths in the world, with more than 600,000 people dead.
Some researchers are studying whether there is a connection between a poor diet and America's' staggering death toll. Early studies show deaths could be caused by multiple factors, including vaccination rates, mask and social distancing policies and environmental pollution.
But the types of food that Americans eat, spurred by government policies and discrimination, may be another cause, researchers say.
"I think … beyond a doubt that poor nutrition has contributed to more severe COVID outcomes, more hospitalizations and more deaths," said Dariush Mozaffarian, dean of the Tufts Friedman School of Nutrition Science and Policy.
A study co-authored by Mozaffarian estimates that about two-thirds of COVID-19 hospitalizations in the U.S. are due to just four conditions: obesity, diabetes, hypertension and heart failure. Mozaffarian called COVID-19 the perfect storm for these underlying conditions to wreak havoc on the body.
"COVID-19 is not just a virus that attacks the lungs like a normal flu virus," he said. "COVID-19 is a virus that attacks the blood vessels and causes really excess inflammation … and so it's like pouring gasoline on the fire."
According to a CDC analysis of more than 148,000 COVID-19 patients between April 1, 2020, and Dec. 31, 2020, 78% were overweight or obese. The agency flagged obesity as a major risk for hospitalization and death from COVID-19.
"Clearly, our poor diet, our poor health has contributed to this extremely sobering number of deaths that we've seen through COVID," said Carey Gillam, an investigative journalist and public interest researcher for US Right to Know, a non-profit food policy research group.
Gillam said the federal government has long neglected the need to support healthier eating in America. Her reporting has exposed the ties between government agencies and corporations.
"For decades now, our government has really supported unhealthy food choices and they have been led down this path by very powerful and wealthy food conglomerates," Gillam said. "There are programs in place and subsidy programs that support growing monoculture, corn and soybeans, that are used as ingredients in a lot of fast foods. There aren't a lot of good programs out there to support growing organic food or growing (a) more diverse supply of food."
Race and class disparities
The disparities in diet-related illnesses also correlate with the virus's disproportionate effects on communities of color.
An article by the New England Journal of Medicine cites a study of five New York City boroughs that found the rate of hospitalizations and deaths due to COVID-19 was highest in the Bronx. The neighborhood also has the highest rates of obesity and food-related disease compared to the other boroughs. The disparities, the article states, could have made the borough's predominantly Black and Latinx residents more vulnerable to the effects of COVID-19.
Yuki Kato, an assistant professor of sociology at Georgetown University, said food access in more diverse neighborhoods is often limited.
"Middle-class, predominantly white areas typically have (an) abundance of food choices," Kato said. "Lower-income areas, the communities of color tend to have much more limited options if there is any grocery stores."
Kato co-authored an article that points out diet tends to be viewed in society as an individual choice. Instead, the study says, diet-related conditions are the result of the racism and classism prevalent in the production and distribution of food.
"Oftentimes, the problem isn't so much that people don't know that people should eat healthy," she said. "It's just really more about access to the tools to do what they already know they need to do."
Food deserts, which are areas where the nearest grocery store is at least a mile away from residents, and food swamps, where fast-food outnumbers healthy food options, tend to be found in lower-income neighborhoods. According to the most recent report from the USDA, about 39.5 million people live in low-income and low-access areas.
Even when a supermarket offering healthier options moves into a neighborhood, it risks displacing lower-income communities who cannot afford higher costs, Kato said.
"Is it really solving food security issues if the people who actually live in that neighborhood … get displaced and get further moved away from the places where they used to afford housing and food and no longer afford either?" she said.
A food bank pursues healthier choices
As the pandemic left millions hungry community members stepped up to help families in need.
Sister Robin Haines, who runs a small food pantry in Fort Lauderdale, Florida, said members of vulnerable communities know what's happening.
"People come to us because they'll say 'What I ate from you doesn't taste like what I buy in the grocery store,' " she said. "We've been able to bolster people not just physically, but also mentally and spiritually."
Haines began her pantry, Sister Robin's Street Market, in April 2020 after seeing pictures of Florida farmers dumping their crops.
"When I first saw the picture on social media I couldn't believe it because we don't have mountains or hills here in South Florida and I'm like, 'What is that?,' " Haines said. "I zoomed in and it was yellow squash and zucchini."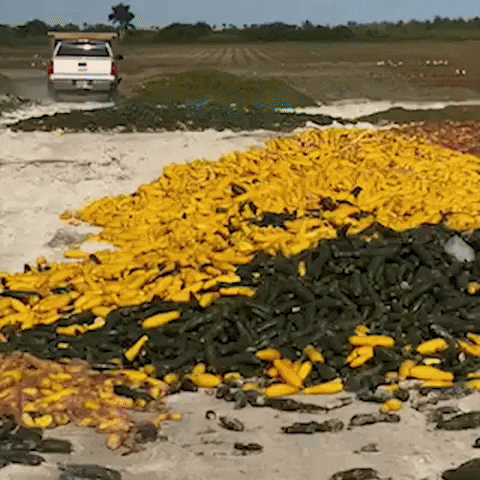 Haines drove north to collect the produce and bring it back to her church, where she distributed the food on the street, attracting people through a Facebook event. Soon she began raising money to buy boxes of produce from the farmers. Before she knew it, Haines had started her own food pantry.
Haines said her pantry initially focused on feeding service workers who lost their jobs during lockdowns but she soon began attracting people from all across the city. At times she would feed up to 60 families on Saturday afternoons. Now she averages about 20 families per week.
"In the beginning we had to work so hard with people because they were ashamed; they didn't want to come back," Haines said. "But then as we were able to slowly get to know people more,
that's when we began to hear more stories … and that helped."
Visitors to Haines's market are met with a medley of produce, including corn, bell peppers and ripe mangos. Haines tailors her service to each customer who walks through her doors, asking what food they would like from her table before placing it in a bag and sending them on their way.
Haines said she wished the farm-to-community style of her market were more commonplace in America. If it were, she said, millions of people might find themselves living in a much healthier country.
"COVID just opened the lid off of looking at how crazy things are here in America as far as one, food waste and two, access," Haines said. "Most people can't afford the type of food that we're giving away for free. And I love giving stuff away for free. To me I think it's just so radical … and I don't want to stop."
But it will take a nationwide wake up call to improve America's eating habits, according to Gillam, the journalist and researcher. Until then, she fears the country will not be prepared for the next crisis.
The data "tells us we are not prepared for another COVID, for another pandemic," Gillam said. "We need to pay attention and get ourselves healthy."
News21 reporter Domenica Orellana contributed to this report.